FREE SHIPPING ON ALL USA ORDERS $150+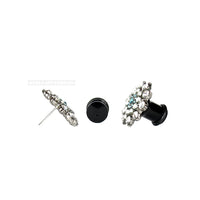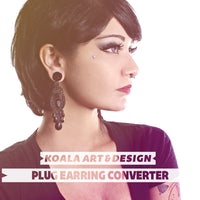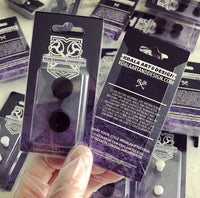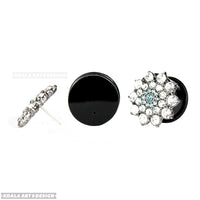 Black Plug Earring Converter
Regular Price

$ 24.99

Sale Price

$ 24.99

Regular Price

Unit Price

per
Tax included.
Shipping
calculated at checkout.
ALL BODY JEWELRY IS FINAL SALE. NO RETURNS OR EXCHANGES. If you are unsure of your size measure a pair of plugs that currently fits in millimeters for the most accurate fit; NO EXCEPTIONS.
The Plug Earring Converter is here! SOLD AS A PAIR (You will receive two plugs with your purchase)! Simply take any pair of conventional post earrings and insert them into the hole on the face of the plug, the patented inner device secures the earring and keeps it in place. Earrings not included. Plugs are single flared with O-rings created with PMMA acrylic. Now people with plugs can wear earrings!

If you like this product let us know by buying a pair or by telling your friends, the only way we can come out with more colors, sizes and plugs in different materials is if we know there is a demand for it! So please spread the word!
Clean before wearing. Use antibacterial soap and water; rinse and dry immediately after washing. Jewelry should be removed and cleaned daily. If you experience any discomfort or irritation remove jewelry immediately. Do not clean with harsh chemicals, do not leave in direct sunlight or heat. Acrylic plugs are not for permanent use. Acrylic Plugs are a great option for anyone who may have allergies or sensitivities to metal. We do not recommend acrylic plugs for everyday use and urge you not to stretch with acrylic or put acrylic in freshly stretched and unhealed piercings.

This is a PATENTED product; please do not attempt to copy and or reproduce this product as we will take legal action against those who do.

FAQ:
Can you remove the earrings after you put them in?
Yes! The Plug Earring Converters are easy and simple to change.

Is the hole on the face of the plug centered?
The hole in which you insert earrings on the face of the Plug Earring Converters is approximately 4mm off the side of the plug on every pair of plugs; on smaller sizes this makes the hole appear centered. The plugs are about 12mm in length to the o-ring. This ensures all earrings look natural when inserted into plugs and inserted into the ears.
Does the hole go all the way through the plug?
Yes, the hole goes completely through both sides of the plug.
Do these work with seamless Hoop Earrings? No. These work the best with post earrings or French hook earrings. French hook earrings may require a slight bend to look natural in the plugs.
Can I wholesale buy these for my shop?
For wholesale and licensing contact Jamie Koala - orders@JamieKoala.com

PLEASE NOTE: ALL BODY JEWELRY IS FINAL SALE